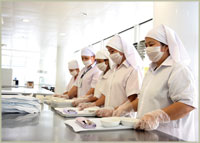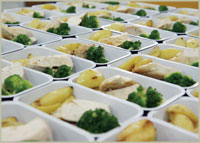 A Safe Pair of Hands for today's
High-Value Air-Travel Industry's Global Brands
"Air-Travel Industry's High-Value Global Corporate Brands"
Gardenia Catering Services is the premier In-Flight Airlines and In-Airport Terminal Catering Services Provider at Kota-Kinabalu International Air-Terminal and has been air-travel industry's "safe pair of hands" since beginning operations in the sixties which was a Golden Age of pioneering air-travel in S. E. Asia. From its beginnings, Gardenia Catering Services has over time systematically developed the intricate frontline In-Flight Airlines and In-Airports Terminal Catering Services Provider capabilities
needed to serve this new millennium's world-wide air-travel industry. Today's vast air-travel industry is amongst the World Economy's largest global economic sector in terms of the numbers of people engaged in the industry and as a measure of its combined monetary value, comprising of a diverse profile mix of travelling passengers who are carried by an international list of high-value global brands representing a multitude of essential and very valuable frontline component corporate businesses in "National Flag Carrier Legacy Airlines, Budget Airlines, Low Cost Carriers, Chartered Air-Services and industry related Airport Terminal Ground Services, that when assembled together indispensably comprise today's vast world-wide air-travel industry.
The Extreme Global Air-Travel Industry
However; today's vast world-wide air-travel industry is an extreme business environment, where global economics and especially aggressive marketing innovations drives fierce competition resulting in fluctuating stochastic market patterns, falling ticket-prices and ever tightening operating margins for a lean bottom line; all of which is exacerbated by economic determinants of irreversible
rising fuel costs driving passenger-seat-per-mile costs ever higher and which experience tells us are never adequately compensated for by the lowering of operating costs derived from serendipitous marketing and technological advances. Such fierce competitive market forces are directly transferred to be collectively borne by each and every frontline component businesses that are collectively the stakeholders in this extreme global air-travel industry.
"Brand Value Horizons Far Beyond Bottom Line Profitability"
In today's vast and still rapidly growing air-travel industry where "passenger lives, safety and security comes foremost" there are no easy quick fixes and its inherent hazardous and unforgiving nature leaves no room for "learning on the job"; thus when faced with the vast air-travel industry's extreme and unforgiving business environment, the more discerning and marketing savvy high-value airlines and airport-terminal businesses look towards marketing expertise to seek out "brand value horizons far beyond bottom-line profitability" and for a "safe pair of hands" to secure their high-value global brands and valuable businesses.
Gardenia Catering Services "A Safe Pair of Hands"
Gardenia Catering Services is a long established frontline component business and stakeholder in the vast world-wide air-travel industry with "A Safe Pair of Hands" grounded on over forty years of frontline industry operating experience". In the extreme unforgiving business environment of today's vast world-wide air-travel industry we have a strategic vested interest in "risk management" and putting in-place; frontline brand marketing expertise to secure the high-value global brands and extremely valuable frontline component businesses that collectively and indispensably comprise the vast world-wide air-travel industry; In
facilitating the smooth running of routine operations with the support of cost-effective financial and people capital; acquiring tried and tested and ready operations-teams having an established and lasting professional work relationship with all personnel from the top to the bottom of respective businesses comprising the air-travel industry; careful deployment, and the efficient manning
and training of our operations-teams with strong and effective leadership from dependable and reliable qualified frontline operations managers who have irreplaceable knowhow of working successfully with air-travel industry's valued personnel and conducting the safe operations of extremely expensive ground and on-board in-flight catering equipments, and associated aircrafts, airport terminal buildings, infrastructure and operating systems; and all performing collectively as a cooperative enterprise, united in our common singular entrusted purpose to deliver the best in quality with a seamless "twenty-four-seven" safe service performance to a shared discerning market-consumer.
In-Flight Airlines and In-Airport Terminal Catering Services Provider out of Kota Kinabalu International Air-Terminal
Ex Kota Kinabalu International Airport

FireFly
MAS Wing
Malaysian Airline System
Dragon Air
Cathay Pacific
Royal Brunei Airline
Thai Airway
Philippine Airlines
Australian Airline
Korean Air
Uni Air
Far Eastern Transport
Transasia Airline
Malaysian Singapore Airlines

Ex Brunei Darusslam International Airport (est.c.1973 – 1977)

Royal Brunei Airlines
Malaysian Singapore Airline
Singapore International Airline
Meals Catering Services Providers
Chilled for "bake-off" or Packed "fresh cooked" In-Flight Meals for Chartered Flights, VIP Flights & Business Jets, Conventions and Media-Events.