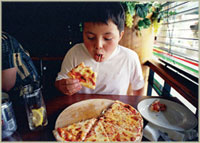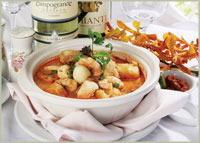 Speciality Restaurants
Gardenia Restaurant "Asia's Western 50's Theme Restaurant" (est. 1957 & re-opening 2012).
Wishbone Restaurant "Malaysian Cuisine Restaurant" (est. 1984 & re-opening 2012).
Emperor's Treasures "Live Fresh-Seafood Restaurant" (opening 2010).
Bella Italia Restaurant (open 2006) "Italian Regional and Mediterranean" Cuisine. Bella Italia at the Jesselton Hotel is a joint venture between Italian Master Chef Mr Maurizio Intrigila and Syarikat Asia Development.
Chinese Restaurants
Emperor's Delight "La Mein & Siow Long Pao"
Northern China Style Restaurant
Emperor's Delight Kitchen
Canton Style Barbeque, Congee & Wonton Noodles Restaurant